Routing Number
The routing number is 111016501 for checks, ACH (direct deposit or payments), and domestic wire transfers.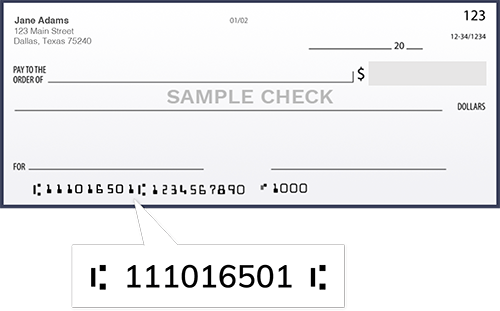 Routing Numbers and Account Numbers
United Texas Bank offers both routing numbers and account numbers. These two numbers work in conjunction for many bank-related transactions and activities; however, they have unique purposes and origins.
Account numbers will vary by individual account. Your account number will not ever be the same as another individual's accounts. For privacy reasons, we don't display any real world examples on this page.
Both numbers are 100% confidential and will never be given out to unverified account holders. Please be careful to not share this information with anyone outside those you wish to have access to your account.
Account number
On checks issued by United Texas Bank, the second set of numbers--those following the character symbol after your routing number--is your account number.
This number is unique to each account, including yours. The only way for you to access this number is through your personal checks and by signing into your online account.
Routing numbers may remain the same for all accounts, but account numbers will always be unique. Even if you hold two separate accounts at UTB, they will have different account numbers.
Routing number
Bank routing number is a sequence of nine digits used by banks to identify specific financial institutions within the United States.
On a check, the character symbol before and/or after the numbers is not part of the routing number. Routing numbers are public.
They may vary based on the region where you opened your account. Smaller banks generally possess just one routing number, while large multinational banks may have several different ones, usually differing based upon state.
Don't know your account or routing number and need individualized help finding it? Call us 24/7 at (972) 503-7930.